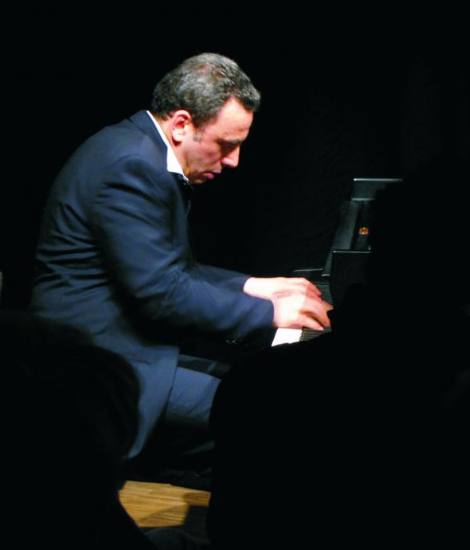 People with PD
Paolo Tatafiore
My name is Paolo Tatafiore. I'm 60 years old, born in Italy, now a permanent resident of the U.S. I will soon become a citizen. I used to be a concert pianist. You can check out some of my performances on YouTube. Two years ago, the first symptoms of a movement disorder started showing up out of the blue.
While performing on stage I was making mistakes I had never made before, and I realized that there was something wrong with my right hand. I was losing control of the fingers. A few months later (in October 2020) I developed a steady tremor in my right arm, that radiated to my right leg and neck. Muscles stiffness and twitching also affected the same areas. I had to give up concerts completely.
The next step was obviously to visit a neurologist. He diagnosed me with Parkinson's disease (PD). I was devastated. My life disrupted.
At the moment, I receive care from a team of doctors at the University of Miami, a Parkinson's Foundation Center of Excellence. I take a lot of medication in order to try and keep the tremor at bay. Without it I'm just a useless shaking mass of flesh and bones. My current neurologist is Danielle Shpiner, MD. She is one of the best doctors I have ever met. Patient, compassionate, excellent listener, she has all the knowledge and has answers to all questions. She is up to date with the cutting edge research.
We are now discussing the next steps for me to be put on schedule for a deep brain stimulation (DBS) surgery that will hopefully substitute the most part of the medication in controlling and eliminating the tremor and other symptoms.
She put me in touch with social workers of the University and they introduced me to Parkinson's Revolution. I want to do my part helping raise funds for initiatives that help the Parkinson's community.
A book inspired me to exercise consistently to help with my symptoms. It has been about two years, and I have been taking long brisk walks every other day (two or three miles), alternating with short slow walks the remaining days. Sometimes instead of walking I bike ride on the boardwalk in front of the beach. I take a day off every now and then if I feel exhausted.
After two years I can say that the tremor has stopped in the right leg and the twitching has reduced to a minimum. They remain in the right arm though, which is not as much affected by walking and biking. I am now intensifying exercises with and without weights for the arms and neck and I hope to slow symptoms in the arm too, because I think that I have been able to reverse the symptoms in the leg. I can't find any other explanation. If it were the medication that produced the reversal, it would have done something for the arm as well. That didn't happen.
My advice for people who are new to Parkinson's is to not rely on medication alone. Medication is a temporary suppressor of the symptoms. Everyone knows that there is no cure for Parkinson's disease at the moment. The only proven thing that keeps the disease at bay is exercise. Don't get discouraged, get out and shake it!
It may be hard at first but be consistent and you will get results. If you get stiff while walking, don't give up! Keep doing it, it takes some time but then the muscles will loosen up and you will walk better. It will improve your mood too, as opposed to sitting in the house and getting depressed!
Get moving with your community at a Parkinson's Foundation fundraising event near you!
Register for Parkinson's Revolution
More Stories
from the Parkinson's community