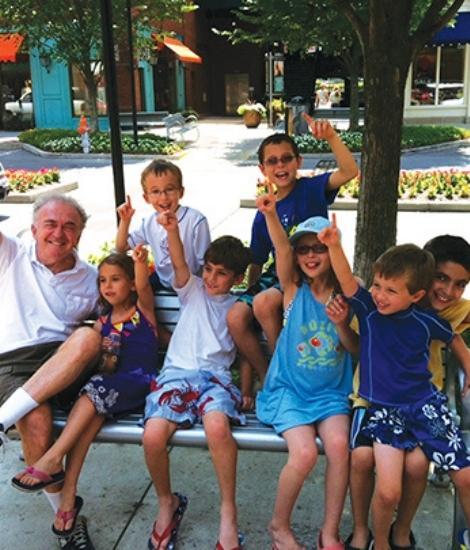 Family Members
Marty Ardman
When I learned that my father had Parkinson disease I felt a range of emotions. It was as though I was helpless, powerless to stop the disease that was affecting someone so close to me. At that point I made a decision to take a stand against the disease and to help fight for the cure. My father, Marty Ardman, has been doing that for years by helping to raise thousands of dollars for the National Parkinson Foundation (NPF).
He volunteers at the Foundation on a weekly basis working closely with NPF Chairman Emeritus, Nathan Slewett. My father has shown me all the amazing work NPF does to help people with Parkinson disease and to help find a cure.
I decided I would do the same and raise money for NPF by running in the Nashville half marathon. I was no longer helpless, no longer powerless. I decided to ask my brother-in-law, Jack Lapidus, and my close friends in Nashville, Jessica Averbuch, Alizah Greenberg, Jessie Rosenblum, and Patti Straus, to join me. After contacting the National Parkinson Foundation, I learned of a wonderful online fundraising tool on the NPF website called "Community Fundraising."
I was able to create my own custom web page which allowed me to post pictures, tell my story, and track the donations. Initially, I decided to start small and set my goal for $1,000; however, my Nashville girlfriends told me that if you dream big anything is possible. We decided on a team name, "Running Wild," and a new goal of raising $10,000. We all set off to work, writing a solicitation letter and getting a friend to create a "Running Wild" logo.
We then gathered the names and addresses of anyone the six of us had ever known, spoken to, or had even the most remote connection to. Over 1,000 letters went out asking donors to contribute online by visiting our web page or by sending a check. We were shocked by the generosity of the response from people all over the country, many of whom we hardly knew. Every day my teammates and I anxiously waited for the mail and checked the web page for donations.
We were amazed to find out how many people, including friends and relatives, have been touched in some way by Parkinson disease. I am proud to say that team "Running Wild," inspired by my amazing dad, Marty Ardman, raised almost $13,000 for the National Parkinson Foundation. He is someone who, no matter what the circumstance, always looks on the bright side and sees the glass as half full.
He is optimistic in every situation and always lives life to the fullest. My dad is a motivated, determined, hard-working individual who tackles any problem that comes his way. He is, and always has been, a family man who puts his family first. He is loved and respected so much by his family, friends, and anyone who ever meets him.
More Stories
from the Parkinson's community