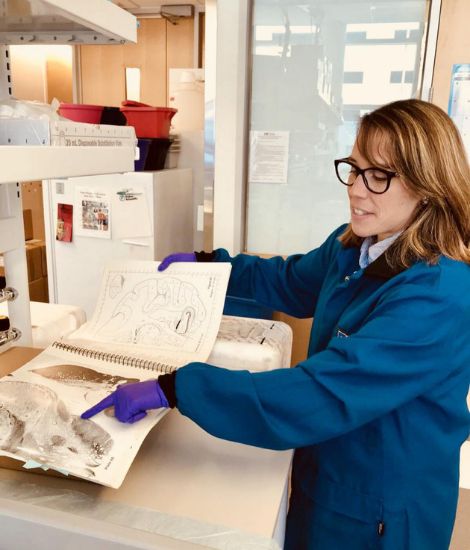 Researchers
Dr. Kalynda K. Gonzales
Kalynda K. Gonzales, PhD, is passionate about her work. As a Florida International University neuroscientist in the Robert Stempel College of Public Health & Social Work, she's trying to explain the underlying causes of Parkinson's disease (PD) in the hopes of discovering better treatments. She also serves as a member on the Parkinson's Foundation South Florida Chapter committee. Her dedication and enthusiasm for a cure is inspiring.
Growing up as a ballerina Dr. Gonzales was always interested in movement, but several injuries altered her life's course toward a medical profession. Her career as a physical therapist introduced her to patients with Parkinson's. Getting to know them and their symptoms inspired her to devote herself to a new scientific/research career trajectory that she has been dedicated to for the last 15 years. 
In her career Dr. Gonzales has learned that PD is a spectrum disorder, meaning people with PD have various combinations of motor and cognitive symptoms. The diagnosis and treatment of PD is difficult.
"How does one address such a problem?" asked Dr. Gonzales. "My research originally focused on characterizing idiopathic PD, as this accounts for most cases, by my recent interest centers on forms of parkinsonism that are induced by environmental, occupational, and/or drug exposures. I strongly believe that knowledge of the pathology and pathophysiology of these parkinsonian syndromes may eventually help us to better understand idiopathic PD."
Dr. Gonzales currently studies a unique PD model induced by toxic levels of the metal manganese. Her research may contribute to the reinstatement of E.P.A. regulations in the U.S. to set limits on manganese exposure. She collaborates with multiple labs who research PD at FIU, in hopes that working as a team will lead to a more efficient approach to explaining how PD works.
As for her involvement with the Parkinson's Foundation, she says, "My work with the Parkinson's Foundation serves as my fuel. I am inspired by the incredible effort they put forth to help those with PD and their families. It is important for me to not get stuck in my research bubble and to be in touch with the faces and stories of individuals with Parkinson's disease – because they are the true underlying motive for what I do."
More Stories
from the Parkinson's community