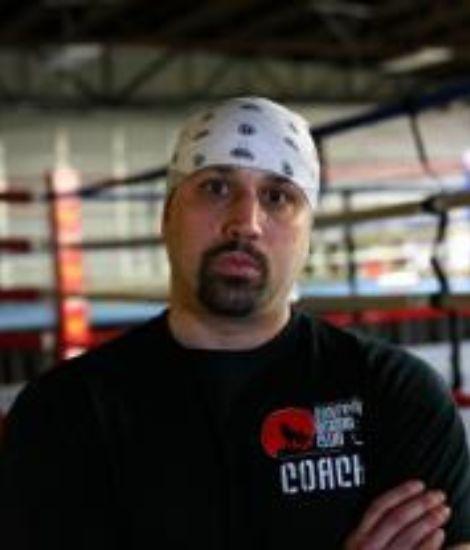 Health Professionals
Jeff
"Get busy living or get busy dying," is the favorite quote of Jeff, the owner of a Rock Steady boxing gym in Pittsburgh. Years ago, Jeff was working at the gym when his boxers asked him why they were not teaching classes for people with Parkinson's disease (PD). Jeff didn't know much about PD or that the sport he loved to teach could immensely improve PD-related motor symptoms. After some research, Jeff became determined to meet this demand at his gym.
Today, Rock Steady's Pittsburgh location offers classes for people with PD six days a week, in the mornings and afternoons, including on Saturdays. Jeff has more than 50 active members between the ages of 54 and 92 who attend classes each week. He has personally assessed the motor skills and needs of more than 75 gym members with Parkinson's who box to improve their symptoms.
Jeff believes that boxing may be the most intimidating exercise to begin. He's heard from people hesitant to join his classes, excuses such as, "I could get hurt" or "it's embarrassing if I can't do it right." He simply tells them to not be afraid and not to give up. He has proved in the progress he's seen firsthand with his students.
It doesn't seem to matter how progressed your Parkinson's is or if you've undergone injuries before, boxing works. For one student, Diane, it changed her way of life in just three weeks. Diane walked into Jeff's gym, cane in hand, unable to even jump rope. In fact, due to her Parkinson's, she couldn't raise the rope over her head. But after several weeks of boxing classes, she stopped using the cane and is throwing the rope around with ease. Her strength, balance and tremors have visibly improved.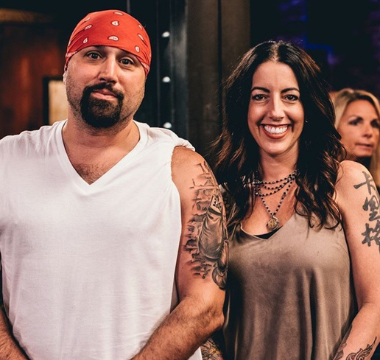 It's stories like these that drove Jeff to further his involvement in the Parkinson's community. He's often invited to speak at Parkinson's support groups, where he talks about his boxing classes and the benefits of boxing, but he also spreads awareness about the power of people battling Parkinson's disease. This was his goal when he applied to star on a special episode of "Ink Masters: Angels" dedicated to Parkinson's.
Jeff wrote to the creators of the national TV show about his experience with PD and the experiences of his students, hoping to share their impact and possibly become one of the two people in the Parkinson's community who would receive tattoos related to PD from the Ink Master artists. He'd only had one tattoo and wasn't looking so much for the ink as he was the opportunity to support people with Parkinson's in a different way. He was given the chance to do just that.
In the episode, Ink Master artist Rachel, gave Jeff a 6-hour, massive tattoo on his left outer bicep. He had brought in a picture he'd taken of these 1940s boxing gloves he keeps hung on a brick wall in his gym. The gloves have the word "Hope" stitched on their exterior.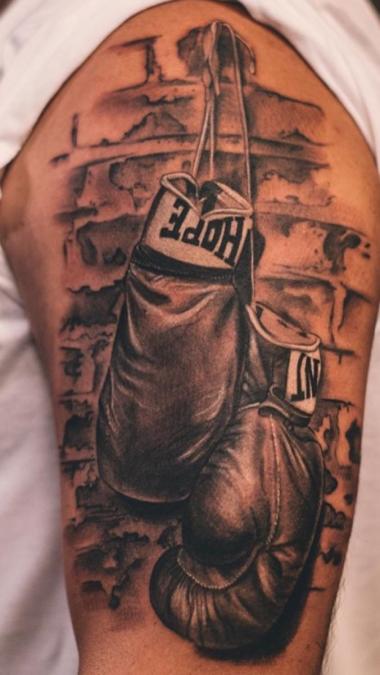 Hope is Rock Steady Pittsburgh's slogan and a pillar of every person on a Parkinson's journey. He thought their vintage vibe would make for a cool tattoo, but more importantly, they would accurately represent the work he does with his boxers and how strong each of them proves to be as they battle Parkinson's disease. He even brought his student, Diane, along with him on the show to share the experience with him.
Together, Rachel, Diane and Jeff rocked the show. Jeff ultimately ended up with an incredible piece of art on his arm that showcases his passions: boxing and spreading Parkinson's awareness.
For anyone who saw this episode or is reading his story now, Jeff wants to share that tattoos are a personal choice - he can't tell someone to get a tattoo for Parkinson's. He will say, "anything you can do to create awareness around Parkinson's and what boxing can do to benefit those with PD, is well worth it."
Jeff participated in a special charity episode of "Ink Masters: Angels" where proceeds from an auction were donated to the Parkinson's Foundation.
Become a Parkinson's Champion to raise funds and awareness in a creative way
More Stories
from the Parkinson's community