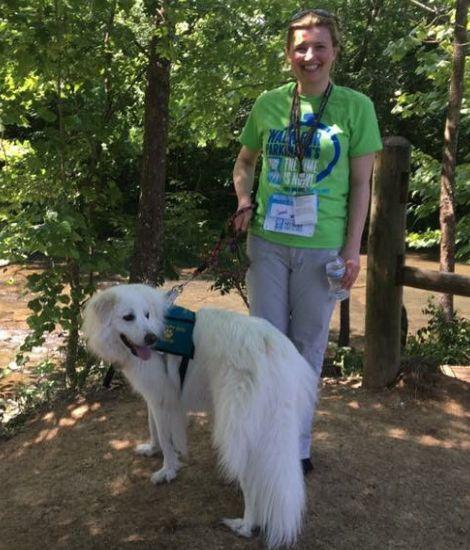 Ellie has been a part of the Parkinson's community ever since her father received his Parkinson's disease (PD) diagnosis more than 12 years ago. Having undergone multiple surgeries and facing infection, he now lives in an assisted living facility where he is receiving care for not only his PD, but his other health complications. She visits him, often accompanied by a welcomed guest - her dog, Winnie Belle.
Winnie is a Great Pyrenees mix, but more than that, she is Ellie's partner, teammate and inspiration. A working dog by breed, Winnie needed a task to keep her busy and motivated through life. Even as a puppy, Ellie noticed that Winnie was drawn to people. She was affectionate towards children and if anyone was ever in trouble, Winnie sought to comfort them. It was decided: Winnie would become a therapy dog. Unbeknownst to both, it was a matter of time before they would make their way to the PD community.
After some research, Ellie and Winnie joined Pet Partners: an organization that offers education for trainers, renewed registration every two years for the therapy team, and opportunities to volunteer. For three years, Winnie took part in a variety of obedience classes outside of the program to learn how to care and comfort people with a range of needs in a medical setting, while Ellie received training of her own to become a therapy dog handler.
Looking to connect to volunteer opportunities in the PD community, Ellie signed her and Winnie Belle up for the first-ever Moving Day fundraising walk in Nashville's Percy Warner Park to participate in honor of her father and his fight against Parkinson's disease. They attended as a therapy team. "Sometimes people are afraid to or don't know how to approach people with Parkinson's. Having a dog breaks the ice," said Ellie about one man they met at the walk. Wheelchair-bound and likely experiencing facial masking due to his Parkinson's, the man didn't seem to take an interest in people. But Winnie caught his eye. He then spoke slowly and softly about his own pet and was thrilled to meet Winnie.
This is what Winnie Belle can do. Even Ellie's father, who is not an animal-person, finds joy in Winnie's visits.
She and Ellie have since become quite the therapy team: they volunteer at Vanderbilt children's hospital twice a month, attend monthly events for young kids with special needs and even visit juvenile court every so often. "Everyone knows Winnie," says Ellie about the kids, nurses, and staff they encounter, "they're eyes light up when they see her."
Hoping to support other therapy teams in Nashville, Ellie and other Pet Partner handlers started the local affiliate group called Music City Pet Partners in July of 2017. Since then, the group ran their own booth at an annual dog days event with the goal of extending the support of pet therapy teams to those who could truly use it. 
Ellie and Winnie plan to further explore dog therapy in the Parkinson's community and rally more Pet Partners teams to attend Moving Day Nashville next year. They can't wait.
Moving Day Nashville 2018 will take place on Saturday, April 7 at Centennial Park.
More Stories
from the Parkinson's community