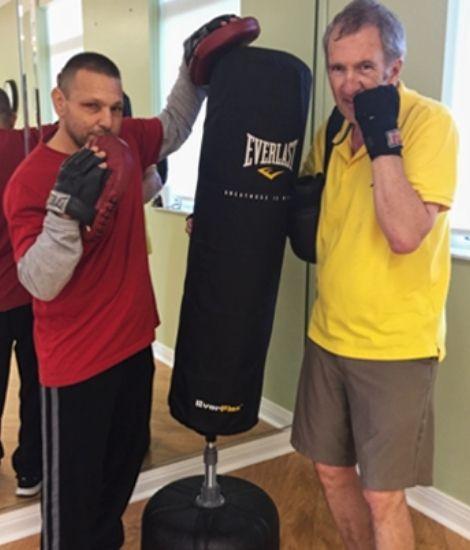 Health Professionals
Brian Lederman
My name is Brian Lederman and I am a personal trainer in a gated community in Fort Myers, Florida. I recently worked with someone who has Parkinson's disease (PD) and discovered that he is the true example of a hero who will not led a diagnosis define him.
I had just taught a pilot class called "Punch Fit" at the gated community. It combined boxing, cardio and core emphasis, while improving balance and coordination. After the first class, an attendee named Tim, and his wife, Lynne, approached me. I noticed that Tim was walking leaning to his right, with bad posture and was shaking uncontrollably. He was quiet and somewhat meek. Tim told me he had Parkinson's and that "The Morning Show" recently aired a segment about a boxing program that showed promise for Parkinson's symptoms. Tim, 69, asked me if I would give him private boxing lessons.
At that moment I knew Tim was special. They say God gives his toughest battles to his strongest warriors and I knew Tim was a warrior. I was confident that he was completely committed. So we began training twice a week.
Initially, I knew nothing about Parkinson's so I took the trainer's perspective. Since Tim leaned towards his right and had bad posture I started him with a step/drag foot drill, which is the basic way a boxer moves around the ring. We then progressed to basic punches such as a jab, cross, hook and uppercut. From there, we added movement, defense and counter punching. It was a progressive approach that combined many of the neurological aspects affected by Parkinson's. Knowing him and the warrior he is, allowed me to push him to his potential.
Tim worked incredibly hard and was disciplined. I knew he was practicing his boxing in front of a mirror every day because his skill and conditioning increased very quickly. His posture, strength, balance and coordination improved to the point that his friends and family almost didn't recognize this new Tim.
I began asking Tim to demonstrate boxing techniques for the group class, which Tim was still attending in addition to our training. The class responded with a collective "wow!" I posted a video of Tim hitting the punch mitts with me and he became an instant celebrity at the gated community where he lives and I teach. In fact, Tim and his wife had inspired and championed for their community to host another boxing class for people with Parkinson's, stroke survivors and other health conditions. Tim and Lynne began attending this class, too.
I never gave Tim special treatment. He was a great pupil and diligent worker. He trained as hard, or harder than anyone I'd worked with. He never quit, never needed a rest during a session and worked until his technique was correct.
The way his body responded to the intense training and his overall improvement spoke for itself. After around six weeks of boxing sessions his shaking decreased immensely and his posture improved, as did his confidence and daily functions. All of these improvements that were once limitations were noticed by his friends and family who could not believe this was the same Tim.
It was at the great pleasure to work with Tim, but I take minimal credit. Tim has shown me that Parkinson's is a very serious issue for those who are living with it and that it affects their friends and family. With the heart and spirit of a warrior like Tim, it is a battle that he, and anyone who commits to, can win. He is not only an inspiration for those with Parkinson's, he is an inspiration for all.
I want to thank the National Parkinson Foundation for their time and for continuously encouraging Parkinson's awareness and education.
More Stories
from the Parkinson's community