Educational Events
The Role of the Black Church: A Conversation About Dementia & PD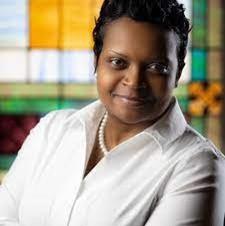 The Role of the Black Church: A Conversation About Dementia & Parkinson's Disease with Dr. Fayron Epps
Program begins at 10 a.m. Lunch will be served at 11:30 a.m.
Join us for fellowship, learning, food, and an interactive discussion about the role of the Black church in supporting those affected by dementia and Parkinson's disease. Attendees will hear from Dr. Fayron Epps, Associate Professor of Nursing at Emory University and Founder of Alter. Pastor Frederick Smith of the Bridge Christian Center will provide an opening prayer and welcome. People with Parkinson's disease will share their experiences. 
There is no charge to attend, but registration is encouraged. This program is open to community members, faith-based leaders, and anyone in the community interested in learning more.
---
Speakers:
Fayron Epps, PhD, RN
Associate Professor of Nursing, Emory University
Dr. Epps has devoted her 20+ year career as a nurse leader to reducing health disparities for underserved populations through innovative, culturally relevant programs for the Black community. She works closely with an interdisciplinary team to promote quality of life for Black families affected by chronic illnesses. Dr. Epps serves on the Board of Directors for the Southern Gerontological Society and the Alzheimer's Association Georgia Chapter.
Pastor Frederick J. Smith
Founder and Senior Pastor, Bridge Christian Center
People with Parkinson's Disease 
COVID SAFETY: The health and safety of our participants, sponsors, volunteers and staff are our top priority. We continue to monitor CDC recommendations and will adhere to state and local COVID guidelines in place on the event day. Adjustments will be made if necessary.
Educational Events
Learn how Parkinson's symptoms may change over time and new strategies available for managing them.
Fundraising Events
Moving Day is your chance to speak up about Parkinson's disease and move others to take action.
Educational Events
Learn how Parkinson's symptoms may change over time and the tips and tools for adjusting to life with Parkinson's disease.