Advancing Research
Studying Genetic Links to Better Treat People with Parkinson's Disease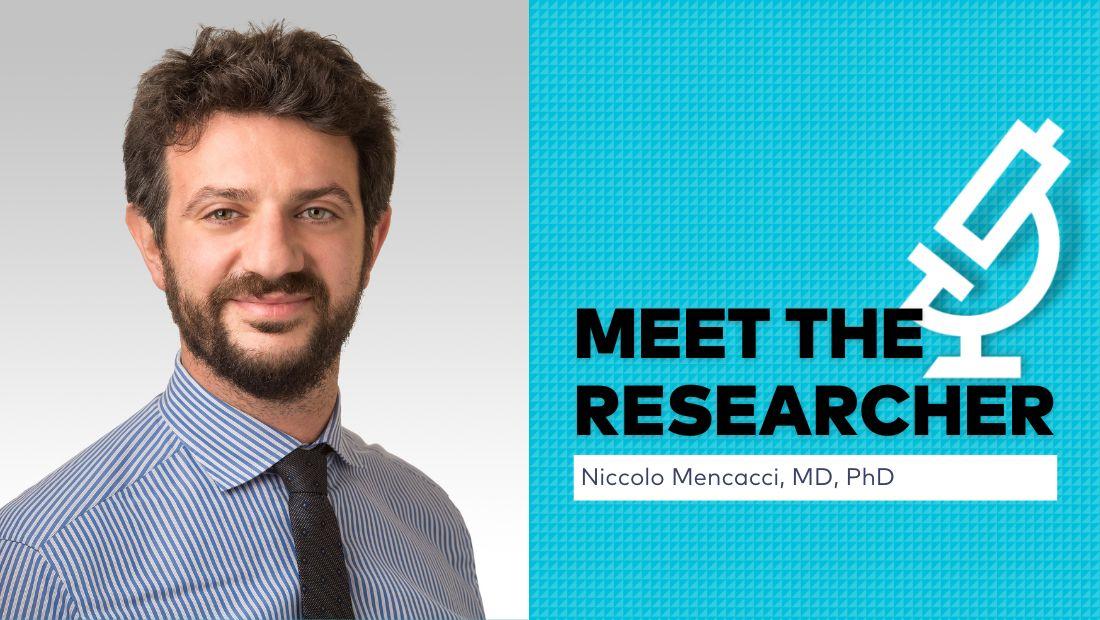 Understanding how genetics play a role in Parkinson's disease (PD) is a crucial step to uncovering improved treatments and a cure for PD. Niccolo Mencacci, MD, PhD, has dedicated his career to identifying novel disease-associated genes responsible for Parkinson's disease, dystonia and other movement disorders, and working with patients who have familial or suspected genetic movement disorders.
"When we identify genetic causes of neurodegeneration, we know that those genes are critical in disease mechanisms. So, it doesn't matter how frequent or rare it is, if a gene is linked to a condition, it means we need to study how it works in the neurons," he said. "This could pave the way for new understanding of the disease mechanism, potentially leading to new therapeutic approaches."
Dr. Mencacci is an Assistant Professor of Neurology at Northwestern University, where he runs the movement disorders genetics clinic. The creation of the clinic came from his interest in better understanding the genetics of movement disorders, and it is a multidisciplinary space that includes in-depth neurological assessment and state-of-the-art genetic tools and is run in partnership with a genetic counselor. This combination allows him to study patients and families with Parkinson's disease and other movement disorders and determine a molecular diagnosis for their condition.
"This is truly the basis for what we call precision medicine, or precision neurology," he said. "This is a new type of program that not many other centers have, so we are trying to build it ourselves. My expertise is as a movement disorders neurologist, but I also have a PhD in human genetics, so that's why we decided to shape the clinic this way. It's a clinic at the border between clinical practice and research, and there's a lot of back and forth between the two fields."
Dr. Mencacci is also the co-lead for the Monogenic Hub of the Global Parkinson's Genetics Program (GP2), a five-year program aimed at identifying new monogenetic causes of Parkinson's disease around the world. While previous genetic studies have mostly focused on people of white European descent, one of the major goals of the GP2 study is go beyond this group and study more people from historically marginalized populations around the world.
Separately, he is researching the genetic and molecular mechanisms of PD. He was awarded the Parkinson's Foundation 2021 PD GENEration Fellowship Award for this work. The award allowed him to take this work, which began during his fellowship, into the next stage of his career, protecting some of his clinical time to focus on this important research.
"An exciting part of what I do in the lab in trying to understand how certain genetic mutations linked to rare forms of Parkinson's disease may affect biological pathways that are important for disease mechanism," he said. "This research can be hard to continue because it takes a lot of time. The support I received from the Parkinson's Foundation was instrumental in protecting my role in this research and gave me the enthusiasm to continue this work. It's very important to support young researchers and their research interests."
Dr. Mencacci looks forward to the potential his research can have to improve the health and lives of people with PD. His work with people who have genetic links to PD keeps his motivation high.
"On a daily basis, I think about what an exciting time it is for genetics," he said. "We are finally seeing the first clinical trials for patients who have genetic forms of Parkinson's disease. For many years, we have been identifying genetic forms of Parkinson's, but it made little difference in clinical practice. Now, we're learning more about how genetics can influence how we manage treatment for a patient."
He is also grateful for the support of the Parkinson's Foundation and its backing of genetics research in Parkinson's disease.
"The support the Parkinson's Foundation offers people with Parkinson's to help them understand the disease is incredible, but what they are doing to support the research community is also so important," he said. "I'm grateful for their support of my research and for their incredible PD GENEration study, which is forming the way that genetics can be applied to Parkinson's disease and makes genetic testing so accessible for people with Parkinson's. It's really changing the culture in the field of Parkinson's disease."
For more information on our genetics initiative, PD GENEration: Mapping the Future of Parkinson's Disease, visit Parkinson.org/PDGENEration.