Raise Awareness
Service Dogs for Parkinson's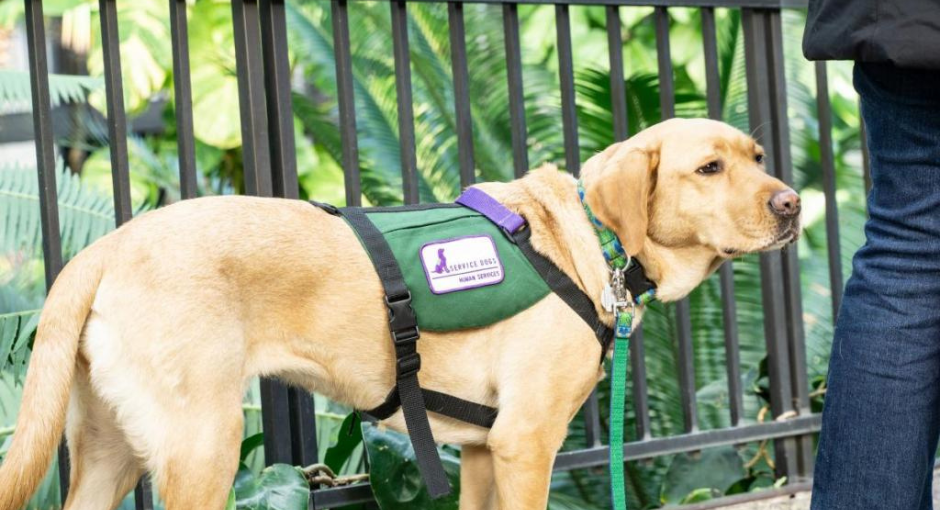 The dog lovers among us have yet another reason to treasure their pups — namely, that service dogs may be able to make life easier for people living with Parkinson's disease (PD). Service dogs can help with a number of PD symptoms from physical challenges such as balance to social and emotional issues as well.
Carolyn Weaver is an alumni member of our Parkinson's Advocates in Research (PAIR) program. Her half-Labrador Retriever, half-Golden Retriever, Selma, helps with her mobility.
"Selma is trained primarily to help me with the freezing episodes that I experience from Parkinson's," said Carolyn. "To help me get moving when I get stuck, she pulls forward while I hold onto a harness that she wears. She knows to pull forward just enough to get me going, but not so much as to pull me over. She is very patient. I move pretty slowly and she just waits for me until I am ready."
About 38 percent of people living with PD fall each year. Service dogs can be trained to provide balance, support when standing back up or alert others that this person had fallen.
"If I fall, I can call her with the command BRACE, and she stands nearby and gets rigid over her shoulders and hips so that I can pull myself up by holding on to her. She can also help to pull me out of chairs and out of bed, using a tug."
Service dogs are also known to bring joy and confidence to the relationship. It is estimated that at least 50 percent of those diagnosed with PD will experience some form of depression during their illness, and up to 40 percent will experience an anxiety disorder. Therapy dogs can be brought into a person's home to counter non-motor symptoms such as depression, anxiety and social isolation.
"When someone lives with PD," Carolyn explains, "it is very common for them to want to just stay at home. It can be hard to be out in public because people stare at you, and you may have a fear of falling. Selma has taken all of that away. People love service dogs, so it kind of takes the attention off of you, as the person with PD, and puts the focus on the service dog. This allows me the luxury to be able to get moving again without people staring at me. She keeps me going."
People interested in owning a service dog should speak with their care team. There are many dog programs across the country where their sole purpose is to train basic obedience and advanced service skills tailored to their future partner's needs.
If all parties agree that a service dog is the right answer for an individual living with PD, Carolyn's best advice is to apply now! The process can be lengthy.
"I think someone with PD should consider a dog not only to help with balance and other physical symptoms, but also to offer companionship. The confidence Selma has given me is amazing."
To learn more about therapy options for those living with Parkinson's disease, call the Parkinson's Foundation free Helpline at 1-800-4PD-INFO (473-4636).