Parkinson's Foundation Global Genetics Study Hits Enrollment Milestone
PD GENEration: Mapping the Future of Parkinson's Returns Value to Participants, Physicians and Broader Research Community
NEW YORK & MIAMI (January 24, 2023) — The Parkinson's Foundation has reached a significant milestone with the recruitment, genetic testing and counseling of 7,500 participants in its international study, PD GENEration: Mapping the Future of Parkinson's Disease. Currently at 50% of its recruitment goal of 15,000, the study includes 36 participant sites, over 50 referral sites and has expanded to Canada – while still offering home testing – as part of the Foundation's commitment to increasing access to Parkinson's disease (PD) research.
PD GENEration tests for clinically relevant genes with the goal of improving PD care by accelerating research to advance improved treatments. The study helps people with PD and their physicians identify whether they qualify for enrollment in clinical trials. Currently, investigators have found that 14% of participants have a genetic form of PD – a significant observation compared to the long-standing estimate of 10%.
"Ensuring that the entire Parkinson's community – including the 90,000 individuals expected to receive a PD diagnosis this year – has access to their genetic status is as critical as ever," said James Beck, PhD, chief scientific officer for the Parkinson's Foundation. "Every PD GENEration participant plays a part not only in their own personal discovery but also in feeding results to researchers which will advance future research."
To fully understand how PD affects individuals of diverse backgrounds, representation of the broader PD community in research is critical. Through PD GENEration, the Foundation works to increase diversity in research and aims to make no-cost genetic testing accessible to every person with PD. Participants are enrolled from all 50 U.S. states, Puerto Rico, and the Dominican Republic; and, so far, 22% of participants represent historically marginalized racial and ethnic groups.
The study continues to expand its reach with the addition of testing sites and collaborations with clinicians in historically excluded communities. The Foundation extensively engages Hispanics and Latinos and provides genetic counseling in English and Spanish, a first-of-its-kind for a study of this scale. Roughly 11% of participants identify as Hispanic, and investigators found that 17% of these individuals have a genetic link to PD – the highest rate of any ethnic group thus far.
"Through the expansion of the PD GENEration study to more populations, we are bringing diversity to genetics data," said Carlos Singer, MD, professor of neurology at the University of Miami Miller School of Medicine. "In turn, this will accelerate the pace of research to help all people with Parkinson's, regardless of where they live."
The study's data are analyzed in real-time by the Parkinson's Disease Gene Curation Expert Panel (GCEP), the first-ever genetics working group focused on neurodegenerative diseases formed by the Foundation within the NIH-funded Clinical Genome (ClinGen) Resources. The study is conducted in partnership with the Parkinson Study Group under the leadership of Michael Schwarzschild, MD, PhD, and Hubert Fernandez, MD.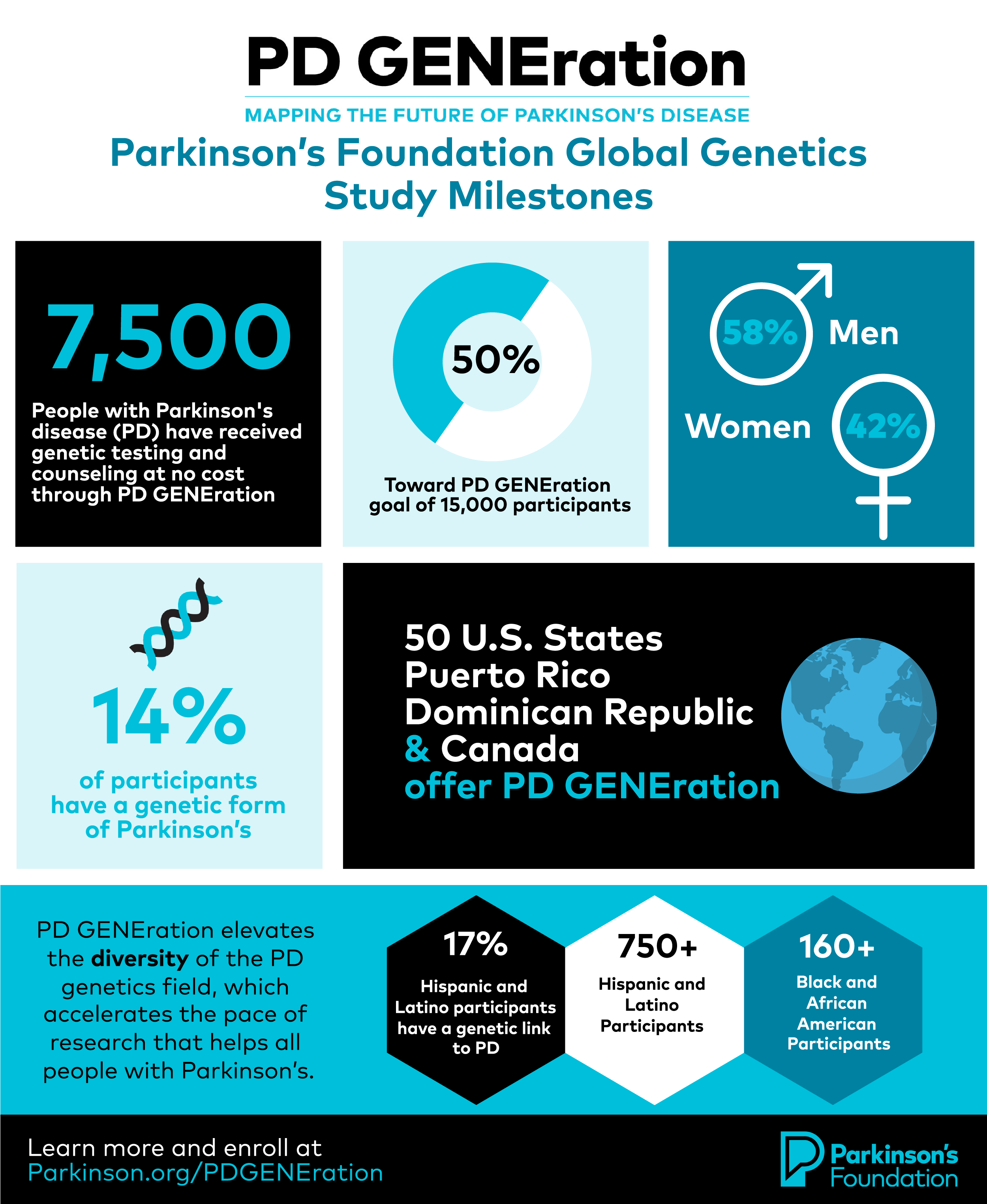 To learn more about PD GENEration, visit Parkinson.org/PDGENEration or call 1-800-4PD-INFO (473-4636). For questions about enrollment, email Genetics@Parkinson.org.
###
About the Parkinson's Foundation
The Parkinson's Foundation makes life better for people with Parkinson's disease by improving care and advancing research toward a cure. In everything we do, we build on the energy, experience and passion of our global Parkinson's community. Since 1957, the Parkinson's Foundation has invested more than $425 million in Parkinson's research and clinical care. Connect with us on Parkinson.org, Facebook, Twitter, Instagram or call 1-800-4PD-INFO (1-800-473-4636).
About Parkinson's Disease
Affecting an estimated one million Americans, Parkinson's disease is the second-most common neurodegenerative disease after Alzheimer's and is the 14th-leading cause of death in the U.S. It is associated with a progressive loss of motor control (e.g., shaking or tremor at rest and lack of facial expression), as well as non-motor symptoms (e.g., depression and anxiety). There is no cure for Parkinson's and nearly 90,000 new cases are diagnosed each year in the U.S.