New Study Shows 1.2 Million People in the United States Estimated to be Living with Parkinson's Disease by 2030
Parkinson's Foundation Reveals Most Comprehensive Estimate of
Parkinson's Prevalence in North America since the 1970's
NEW YORK & MIAMI (July 10, 2018) — A Parkinson's Foundation study recently published in the scientific journal, npj Parkinson's Disease, reveals findings from the most comprehensive estimate of Parkinson's disease in the United States and Canada to date. The Foundation's Parkinson's Prevalence Project estimates that 930,000 people in the United States will be living with the disease by 2020, further increasing to 1.2 million people by 2030.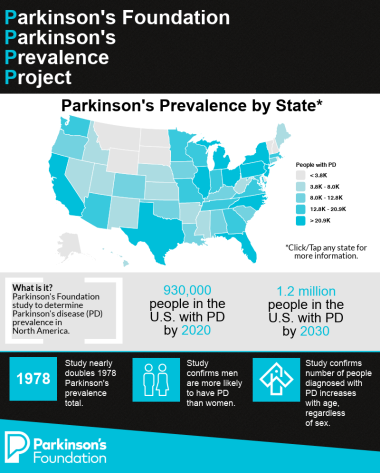 "Our knowledge of Parkinson's has evolved significantly and so should our understanding of the population that has this disease," said James Beck, PhD, Parkinson's Foundation Chief Scientific Officer and contributing author on the study. "These findings will help attract the attention of federal and state government as well as the pharmaceutical industry to the growing need and urgency in addressing Parkinson's disease."
The Parkinson's Foundation formed the Parkinson's Prevalence Project in 2014 to determine an updated estimate of the prevalence of Parkinson's throughout North America. Prior estimates were deemed outdated and based on a small number of cases from small regional subpopulations – such as a study performed in a rural Mississippi county finding 26 cases was long used as the benchmark estimate for Parkinson's prevalence in the US. The Parkinson's Prevalence Project revised estimate draws from larger and more diverse populations and is almost double the previous estimate:
The research combined data from a multi-study sampling strategy in diverse geographic regions including California, Minnesota, Hawaii, and Ontario, Canada and compared those results to U.S. Medicare data.
The estimated overall prevalence of Parkinson's among those 45 years old or older is 572 per 100,000, which translates into 680,000 individuals in the U.S. who are at least 45 years old with Parkinson's in 2010, the date of the last official U.S. census.
The prevalence of Parkinson's will rise to approximately 930,000 in 2020 and 1,238,000 in 2030 based on the U.S. Census Bureau population projections.
Connie Marras, MD, PhD, lead author on the study and movement disorder neurologist at the Movement Disorders Centre at Toronto Western Hospital, a Parkinson's Foundation Center of Excellence and the Edmond J. Safra Program in Parkinson's research said, "Like Alzheimer's disease, Parkinson's affects primarily older individuals and poses a significant health care burden, as well as a real challenge on how to care for the aging population over the coming decades."
Added John L. Lehr, CEO of the Parkinson's Foundation: "One million Americans living with Parkinson's by 2020 highlights the growing importance of optimizing care and treatment for people with the disease today. We continue to support scientific research, including through our 'Parkinson's Outcomes Project,' the largest clinical study of Parkinson's in the world, to help better understand what causes the disease, how to treat it and potentially stop progression and improve the lives of everyone living with the disease."
Later this year, the Parkinson's Foundation will be leading phase two of the prevalence study to better understand, on a national scale, how many people are diagnosed each year with Parkinson's as well as the rate of mortality of people with the disease.
For more information about Parkinson's statistics, visit Parkinson.org/Statistics.
###
About the Parkinson's Foundation
The Parkinson's Foundation makes life better for people with Parkinson's disease by improving care and advancing research toward a cure. In everything we do, we build on the energy, experience and passion of our global Parkinson's community. Since 1957, the Parkinson's Foundation has invested more than $400 million in Parkinson's research and clinical care. Connect with us on Parkinson.org, Facebook, Twitter, Instagram or call (800) 4PD-INFO (473-4636).
About Parkinson's Disease
Affecting an estimated one million Americans and 10 million worldwide, Parkinson's disease is the second-most common neurodegenerative disease after Alzheimer's and is the 14th-leading cause of death in the U.S. It is associated with a progressive loss of motor control (e.g., shaking or tremor at rest and lack of facial expression), as well as non-motor symptoms (e.g., depression and anxiety). There is no cure for Parkinson's and 60,000 new cases are diagnosed each year in the U.S. alone.