Parkinson's Foundation Debuts New Website Design, Enhancing Customization and Accessibility
NEW YORK & MIAMI (August 9, 2022) — The Parkinson's Foundation announces the debut of the newly designed Parkinson.org, featuring a fresh look and array of innovations that improve user experience for the entire Parkinson's disease (PD) community. The new website provides a streamlined approach for finding information, tools, and resources through easier navigation, accessible design, customizable and localized searches, and an improved mobile experience.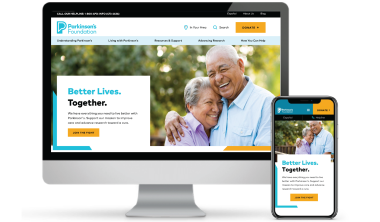 "We are excited to share an updated Parkinson.org that reflects the full breadth of our resources across the country," said John L. Lehr, president and CEO of the Parkinson's Foundation. "Magnifying the Foundation's voice as a valuable resource in the world of Parkinson's disease, this redesign is the latest way that we are bringing free resources and tools to people living with Parkinson's and their loved ones."
Created for people living with PD and their care partners, visitors of the new comprehensive website will discover:
Easy Navigation and Accessible Design: Including more significant "strike zones" around buttons and hyperlinks to make clicking easier for those with motor issues, and changes in the use of greater color contrast and improved screen reader capabilities for users who are blind, have low vision, or use assistive technology.
A Customizable, Localized Experience: New, advanced site filtering allows users to customize searches based on personal needs and preferences, including filters by Topic, such as mental wellness, symptoms, research, treatments, and more; Connection to PD, including people with PD, Care Partners, Family Members, Health Professionals, and more; and by articles in English or Spanish. For a localized experience, users may also define their Parkinson's Foundation Chapter to access resources and events close to home.
A Smooth Mobile Experience: Whether visiting the website via smartphone, tablet, or desktop, the new design is optimized for use across all devices.
All-New "Join A Study" Page: Within the all-new research section, an entire page is dedicated to helping people with Parkinson's to explore and enroll in current PD research opportunities and studies. Other new pages in the section include Advancing Research, Finding a Cure, Our Research Priorities, and Advocate for Research.
"The Parkinson's Foundation is very intentional about improving the lives of people with Parkinson's and their care partners, including providing a website that is easy to navigate," said care partner Tonia Smith of Cincinnati, Ohio. "I am confident that the new site will make identifying resources and connecting with the PD community easier than ever!"
Web users can utilize advanced filters in other newly enhanced sections. This includes the PD Library, which features the latest books, podcast episodes, fact sheets, videos, and more; My PD Stories, a place to meet other community members; and the Parkinson's Today blog, where users can find the latest in PD news, tips, and research.
The new website was created in collaboration with Interactive Strategies, a full-service digital agency whose strength lies in understanding the complex relationship that exists between strategy, design, content, usability, technology, and marketing.
###
About the Parkinson's Foundation
The Parkinson's Foundation makes life better for people with Parkinson's disease by improving care and advancing research toward a cure. In everything we do, we build on the energy, experience and passion of our global Parkinson's community. Since 1957, the Parkinson's Foundation has invested more than $400 million in Parkinson's research and clinical care. Connect with us on Parkinson.org, Facebook, Twitter, Instagram or call (800) 4PD-INFO (473-4636).
About Parkinson's Disease
Affecting an estimated one million Americans and 10 million worldwide, Parkinson's disease is the second-most common neurodegenerative disease after Alzheimer's and is the 14th-leading cause of death in the U.S. It is associated with a progressive loss of motor control (e.g., shaking or tremor at rest and lack of facial expression), as well as non-motor symptoms (e.g., depression and anxiety). There is no cure for Parkinson's and 60,000 new cases are diagnosed each year in the U.S. alone.