The Parkinson's Foundation to Receive $30,000 Grant from the National Endowment for the Arts to Partner with artist Safi Alia Shabaik
MIAMI & NEW YORK (May 20, 2021) — The Parkinson's Foundation has been approved for a $30,000 Grants for Arts Projects award to support an exhibition of portraits by Los Angeles-based artist Safi Alia Shabaik. Created collaboratively with her father Aly H. Shabaik, the exhibition will present photographs, audio recordings, and objects documenting her father's end-of-life journey with Parkinson's disease, dementia, and sundowners syndrome. Shabaik's project is among the more than 1,100 projects across America totaling nearly $27 million that were selected during this second round of Grants for Arts Projects fiscal year 2021 funding.
"As the country and the arts sector begin to imagine returning to a post-pandemic world, the National Endowment for the Arts is proud to announce funding that will help arts organizations such as the Parkinson's Foundation and Safi Alia Shabaik reengage fully with partners and audiences," said NEA Acting Chairman Ann Eilers. "Although the arts have sustained many during the pandemic, the chance to gather with one another and share arts experiences is its own necessity and pleasure."
The Parkinson's Foundation will partner with artist Safi Alia Shabaik to support the exhibition of Personality Crash: Portraits of My Father Who Suffered from Advanced Stages of Parkinson's Disease, Dementia and Sundowners Syndrome at galleries in Chicago and Los Angeles.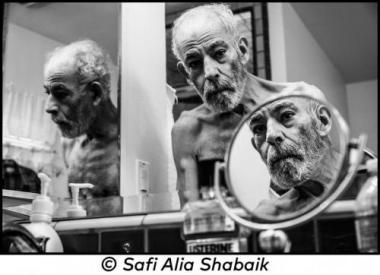 "We are honored to be able to partner with Safi Alia Shabaik thanks to the generous funding from the National Endowment of the Arts," said John L. Lehr, President and Chief Executive Officer of the Parkinson's Foundation. "Shabaik's work provides a sense of understanding to the million Americans living with Parkinson's and their caregivers and helps educate those unfamiliar with the disease."
"I am humbled and elated by the NEA's thoughtful recognition of this project through their generous grant," said Shabaik. "I am deeply honored to partner with the Parkinson's Foundation to exhibit Personality Crash, celebrating the intersection of art and science while bringing visibility to an underrepresented ailing demographic and encouraging discourse on the intricacies of disease, end-of-life care, and dying with dignity. My father would be proud to know that his struggle with disease will now become something life-affirming."
Personality Crash: Portraits of My Father Who Suffered from Advanced Stages of Parkinson's Disease, Dementia and Sundowners Syndrome explores the human condition when altered by disease, from an intimate perspective. With Shabaik's role as documentarian and eventually primary caregiver, her father—Aly H. Shabaik, an engineering professor at UCLA—and she agreed in the early stages of his Parkinson's diagnosis to make this body of work as a way to bring them closer together, knowing illness would eventually pull them worlds apart. Aging with disease has sadly become status quo. The importance of teaching compassion for those afflicted with disease is immediate and imperative, as tallies will only increase exponentially with time. Personality Crash brings visibility, raises awareness and encourages dialogue.
For more information on the projects included in the Arts Endowment grant announcement, visit arts.gov/news.
###
About the Parkinson's Foundation
The Parkinson's Foundation makes life better for people with Parkinson's disease by improving care and advancing research toward a cure. In everything we do, we build on the energy, experience and passion of our global Parkinson's community. Since 1957, the Parkinson's Foundation has invested more than $400 million in Parkinson's research and clinical care. Connect with us on Parkinson.org, Facebook, Twitter, Instagram or call (800) 4PD-INFO (473-4636).
About Parkinson's Disease
Affecting an estimated one million Americans and 10 million worldwide, Parkinson's disease is the second-most common neurodegenerative disease after Alzheimer's and is the 14th-leading cause of death in the U.S. It is associated with a progressive loss of motor control (e.g., shaking or tremor at rest and lack of facial expression), as well as non-motor symptoms (e.g., depression and anxiety). There is no cure for Parkinson's and 60,000 new cases are diagnosed each year in the U.S. alone.