In Memory of Former Senator Johnny Isakson (GA)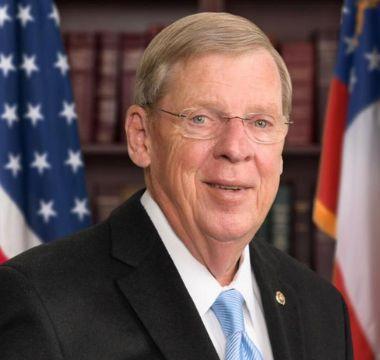 The Parkinson's Foundation mourns the loss of board member, Former Senator Johnny Isakson (GA), who was diagnosed with Parkinson's disease (PD) in 2015. 
Mr. Isakson is the only Georgian to have served in the State House of Representatives, the State Senate, the U.S. House of Representatives, and the U.S. Senate. After his PD diagnosis, he helped to create The Isakson Chair and GRA Eminent Scholar position at the University of Georgia, which raised $4.5 million to attract a leading authority to UGA to focus on Parkinson's research. Senator Isakson also established The Isakson Initiative, an organization dedicated to raising awareness and funding for research related to neurocognitive diseases, including PD.  
The Foundation is grateful for Sen. Isakson's commitment to the Parkinson's community and his advocacy efforts to make life better for people with Parkinson's and their families. The staff and board of the Foundation offer our deepest condolences to the Isakson family.
J. Gordon Beckham Jr., Vice Chair of the board and fellow Georgia native, recruited Sen. Isakson to the Parkinson's Foundation board. "Johnny was passionate about championing Parkinson's research and joined the Parkinson's Foundation board in 2020 to help raise awareness of the disease. We will continue to drive research forward in memory of Senator Isakson's dedication. His positive outlook on Parkinson's and service to our nation will forever inspire us." 
Click here to read more about Sen. Isakson's legacy. 
Click here to make a donation to the Parkinson's Foundation in honor of Sen. Isakson.