Tips for Daily Living
Vea, Escuche y Lea Nuestros Recursos en Español en Esta Temporada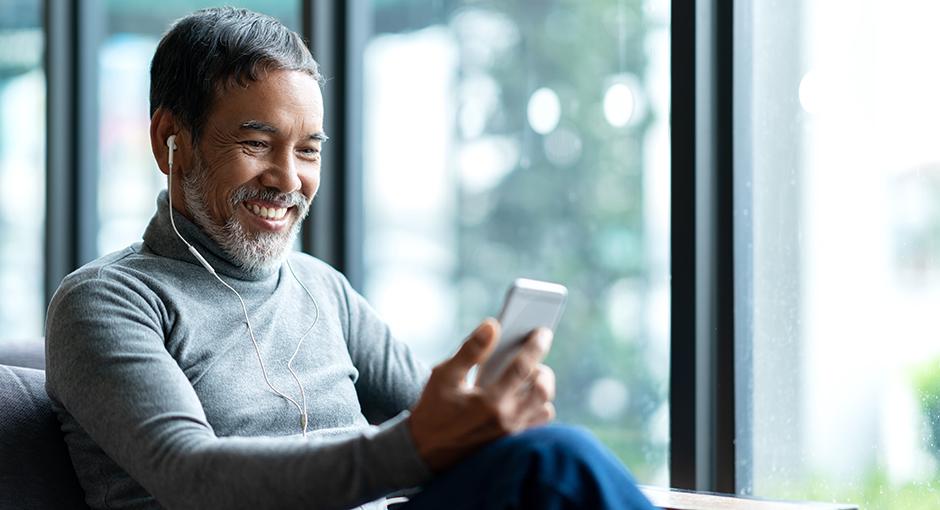 La temporada del invierno es un gran momento para desacelerar y reconectarse virtualmente con familiares y amigos. Si usted o uno de sus seres queridos vive con la Enfermedad de Parkinson, considere aprovechar este periodo para descubrir más acerca del desarrollo de la enfermedad, el manejo de los síntomas y cómo vivir mejor con Parkinson. Desde podcasts, publicaciones, videos y más, a continuación encontrará un listado de nuestros recursos más populares en español:
Care to Talk Tarjetas Digitales en Español
Para los cuidadores, atender a las necesidades de quienes los necesitan es uno de los papeles más importantes que juegan. AARP y la Parkinson's Foundation se han asociado para crear una manera en que los cuidadores puedan conectarse entre sí. ¡Es importante hablar con personas que realmente entienden lo que usted está viviendo!
Esta serie de 12 tarjetas contiene preguntas para ayudar a iniciar conversaciones sobre ser un cuidador. Puede compartir con alguien que le entiende cómo se siente usted sobre dar estos cuidados. Disponible en español e inglés.
5 Pasos - Recién Diagnosticado
Tras el diagnóstico, tómese el tiempo de entender cómo puede afectarle el Parkinson física y emocionalmente. Al tomar control de las cosas, podrá minimizar el estrés y mejorar su bienestar. Estos cinco pasos, sin orden particular, podrán ayudarle a iniciar un saludable estilo de vida con Parkinson.
eBooks de Kindle en Español
¡Nuestra biblioteca ahora está disponible en Kindle! Pida sus eBooks de Kindle en español hoy mismo:
Vea todos nuestros títulos en español en Parkinson.org/Recursos.
Podcast en Español
Sintonice nuestro podcast en español Temas importantes: vida y ciencia del Parkinson (o Substantial Matters: Life and Science of Parkinson's en inglés) para poder escuchar a los expertos del Parkinson hablar de importantes temas acerca de la enfermedad, incluyendo investigaciones, ejercicio, nutrición y más. ¡Póngase al día con estos temas y más con nuestros episodios, ahora disponbles en español!
Blog en Español
¿Sabía que recientemente lanzamos un blog en español? Visite nuestro Blog en Español para aprender sobre el desarrollo de la enfermedad, las alternativas de tratamiento y más. También puede leer historias sobre el Parkinson, escritas por personas que viven con Parkison.
Comience con la experiencia de Graciela, viviendo con el Parkinson. Graciela trabajaba como socióloga y escritora en Argentina cuando le diagnosticaron Parkinson. 
Canal en Español: Recursos para Ti (Canal de YouTube)
Desde nuestra serie de videos de meditación hasta las principales preguntas sobre COVID-19, respondidas por neurólogo, el Dr. Adolfo Ramírez, nuestro canal de YouTube cuenta con una variedad de útiles videos. Haga streaming del canal con uno de sus seres queridos en esta temporada y descubra el poder de aprender juntos.
PD Conversations
Un diagnóstico del Parkinson trae consigo muchas preguntas. Únase a la sección en español de esta comunidad en línea para hacer preguntas, encontrar apoyo y escuchar a los especialistas de la Línea de Ayuda, quienes responderán a sus preguntas en el foro.
Hojas Informativas
Quizá esté en busca de más información sobre ciertos temas relativos al Parkinson. Nuestras hojas informativas resaltan múltiples temas que cubren los síntomas y el manejo del Parkinson. 
Línea de Ayuda
Llame a la Línea de Ayuda de la Parkinson's Foundation al 1-800-4PD-INFO (473-4636), opción 3 para español, que cuenta con especialistas en información sobre el Parkinson, para obtener respuestas a sus preguntas, desde información general sobre la enfermedad hasta recursos locales, apoyo emocional, referencias de profesionales médicos y recursos de la comunidad.
Kit Hospitalario Aware in Care
Tres de cada cuatro personas con Parkinson no reciben sus dosis de medicamento a tiempo cuando están hospitalizadas. Prepárese para su estancia hospitalaria, programada o no, con nuestro kit hospitalario que le brindará las herramientas que necesita para obtener la mejor atención. Descargue los elementos del kit aquí.